President
Pat Campbell-WhitePresident-Elect
Dr. Raymond Bryant

President Nominee
Ed Gossett

Past President/ Treasurer
Richard Miller

Secretary
Jo Allegro-Smith

Service Above Self

Rehoboth Beach Sunrise Rotary Club

P.O. Box 1301

Rehoboth Beach, DE 19971

Club Foundation Chair
Dr. Susan N. GiovePublic Relations Chair
Steven L. Grossman

Community Services Chair
Dr. Uday Jani

Club Director
Tarrie Miller

Club Director
Richard C. Cecil
FOR IMMEDIATE RELEASE
CONTACT:
Ed Gossett
PH: 302.644.6904
Cell: 302.853.0190
Email: getedg@gmail.com
Sunrise Rotary Heats Up 'Operation Warm' with Dozens of New Coats for Cape Henlopen Students
December, 2016 (Rehoboth, DE) – The partnership of two dedicated organizations – Rehoboth Beach Sunrise Rotary Club and Operation Warm – will result in a much more comfortable winter for 84 Cape Henlopen students receiving brand new coats as a result of the joint effort, according to Sunrise Rotary Club President Pat Campbell-White.
"A winter coat is essential during Rehoboth winters," said Dr. Raymond Bryant, President-Elect of Sunrise Rotary. "A brand new coat provides more than just warmth, but allows a child to attend school on cold and rainy days, and gives them a chance to play outside and stay active year round. Giving a child something new provides the added benefit of helping to increase self-esteem and peer acceptance, and represents a true moment of joy for these young recipients."
The coats were distributed earlier this week to children identified by the Cape Henlopen school district and West Rehoboth Community Center as most in need of the warming donation. Sunrise Rotary's participation in the project was sparked by the Club's Community Services Chair Uday Jani, MD, when he participated in a recent "Run Inspired" race and learned of the organization's support of Operation Warm. When he explained the program to the Club and to Harry Keswani, founder of the local Harry K Foundation, he received immediate and generous support.
"The response couldn't have been a more gratifying illustration of the Rotary Club's mission, 'service above self,'" said Dr. Jani. "Everyone wanted to help and we quickly collected enough in donations to purchase 84 new coats. The goal of making a child feel valued and empowered to get to school resonated with us all."
Operation Warm is one of many worthwhile fundraising efforts spearheaded by the Sunrise Rotary Club throughout the year. In 2017, the Club plans to support key projects that include Flags for Heroes, the 14th annual Championship Sunday Tailgate Fundraising Party and the 2nd annual Empty Bowls Fundraiser to help feed hungry families. Membership is open to service-oriented residents and workers in the community, and guests are welcome to attend events. To learn more about Sunrise Rotary and provide financial or volunteer support, please visit www.RehobothSunrise.Rotary-clubs.org.
­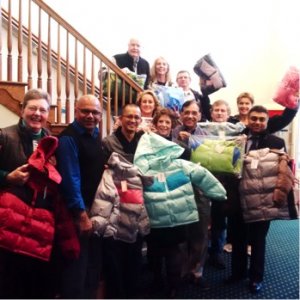 Rehoboth Beach Sunrise Rotary Provides Much-Needed Warmth to Local Children: Teaming up with Operation Warm, in early December the Sunrise Rotary Club donated 84 brand new winter coats to Cape Henlopen students in need.
For more information about Operation Warm: www.operationwarm.org