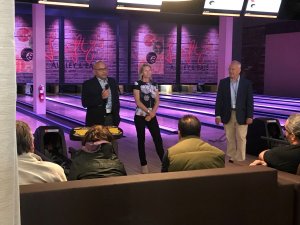 Note: Follow up discussion planned for Wednesday, Nov. 29 – check back here for details in the next week. 
My thanks to all who joined us for the Delaware premiere of the empowering documentary HEAL at Lefty's Alley & Eats on Thursday, Nov. 2. The energy in the room at all three showings was palpable!  It was deeply gratifying to see more than 550 people so open to learning about the healing power within us all, and asking Dr. Krista Griffin, Transcendental Meditation Master Kim Bemis and I insightful questions about alternative therapies and integrative medicine during the discussion that followed.
Please click here for a copy of the "Ten Keys to Happiness" handout from our HEALing event. Jani_10 Keys Flyer 
Many asked to see vital information that went by very quickly in the movie. It is my pleasure to share it with you below:
9 Ways To to a Miraculous Recovery
Radically changing your diet
Taking control of your health
Following your intuition
Using herbs and supplements
Releasing suppressed emotions
Increasing positive emotions
Embracing social support
Deepening your spiritual connection
Have a strong reason for living
Others were moved to ask how to start their spiritual journey. There are numerous paths to choose and whether you start with journaling, meditation, yoga or simply forgiveness, trust that your journey will continue to evolve and bring you joy.
Make plans to join us on Nov. 29 for a follow-up discussion including healing techniques you'll be able to practice at home. I look forward to re-connecting with you all.
Uday Jani, MD